To ensure pending access changes are acted upon, SecurEnds integrates with Ticketing Systems to automatically submit changes to appropriate employees.
If your organization does not use one of our supported ticketing system integrations, we easily integrate Email Configurations to send emails to any specific host or user(s) using our email server settings.
In this section Ticketing System Configuration you will find instructions on setting up:
Global Configuration #
A global configuration option exists within SecurEnds to default assignees for tickets. This option is present within the tool under Applications > Actions > Update then scroll down to Ticketing System Configuration.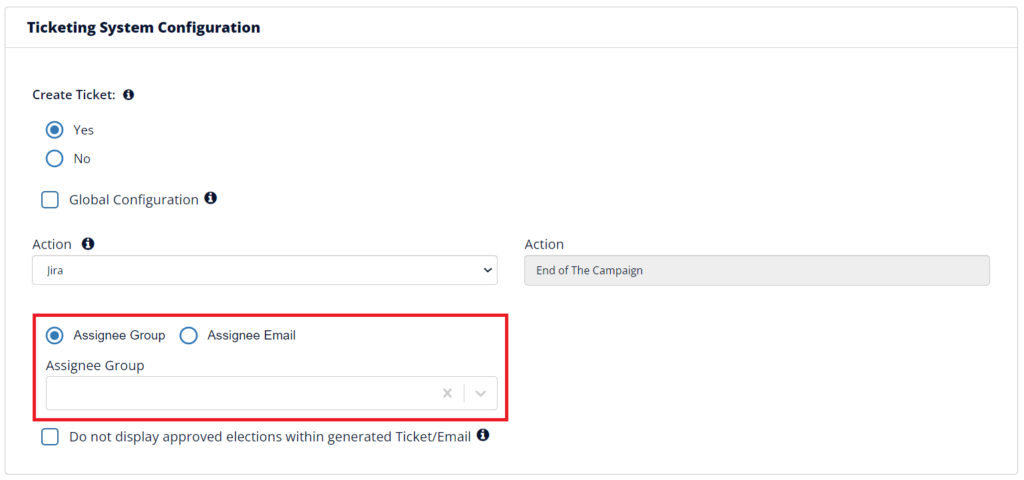 Upon selecting Yes for ticketing system, you can select your ticketing system and have the option to select a specific assignee or group to receive the tickets. This is true for Jira, ServiceNow, Ivanti ticketing systems and email (email will present you with a box to have a specific person's email receive notifications).
Upon selecting Global Configuration the assignee box (in red) will disappear. This will send tickets to default assignee assigned within the original configuration settings within SecurEnds Administration > Configuration > Ticketing System for Access Review.