Alternate Login
Added the ability for non-SSO users to log into a customer instance with SSO Enabled.
When hybrid login is configured, a new login page will allow login via username/password or Azure/Okta/OneLogin/Jumpcloud SSO.
Non-SSO users should select Username & Password to login after entering SecurEnds URL. SSO users will land directly on the SecurEnds home page when clicking the Securends tile in Azure/Okta. SSO users that enter the SecurEnds URL should select Azure/Okta/OneLogin/Jumpcloud to login.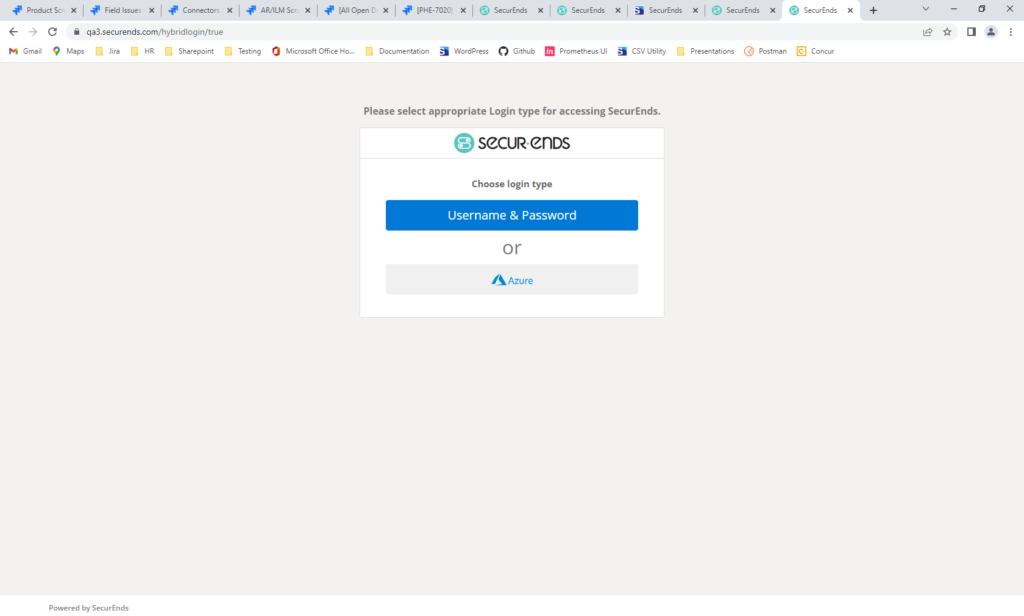 Additional documentation is available to assist with setup of Alternate Login.
Campaigns
Added the ability to close a Campaign automatically when 100% complete.
When all elections have been selected (approve or revoke), the campaign with automatically be closed.
When launch, re-launch or bulk launch a campaign, select automatic close.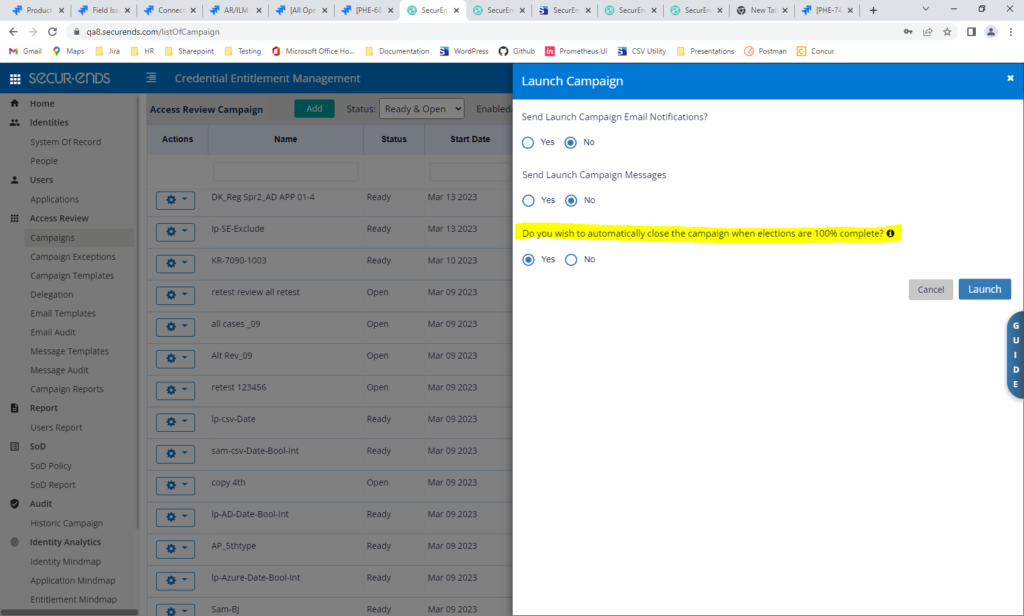 Automatic Close will be displayed in the Campaign Details: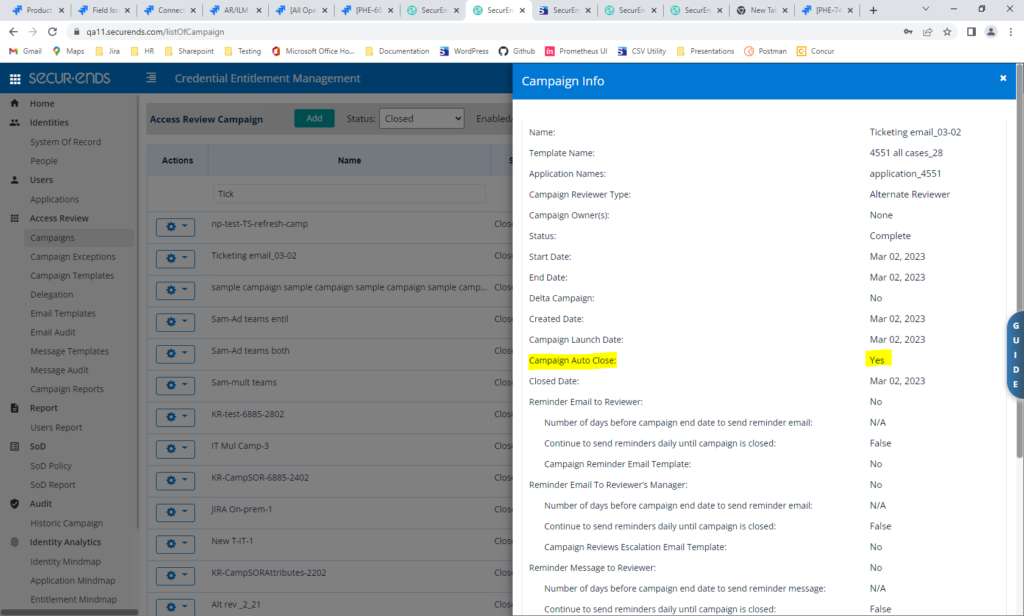 Automatic close will be reflected in the Campaign Audit Trail: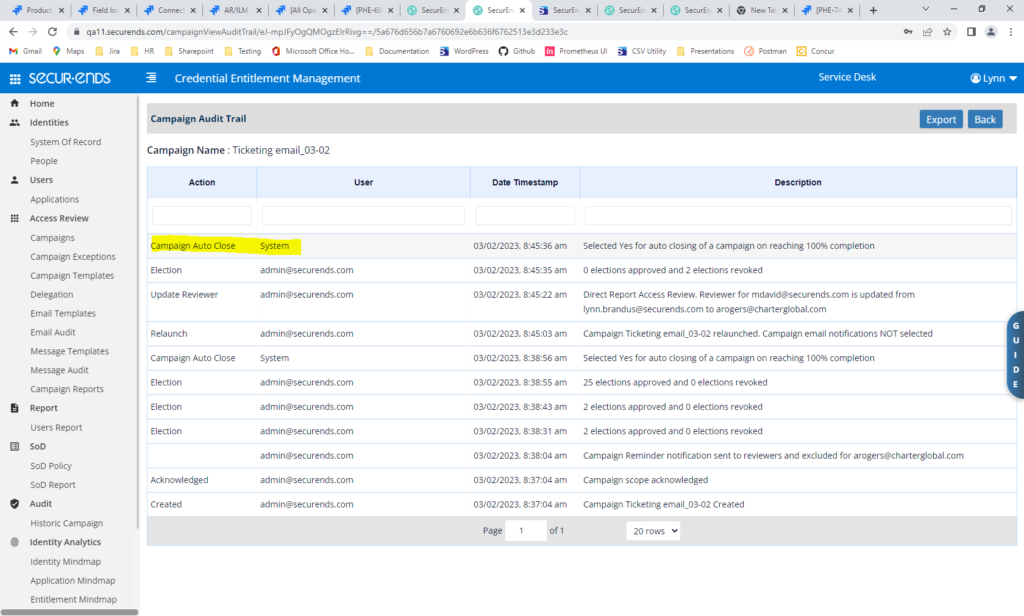 Updated Campaign Review Types
Removed the Entitlement Custodian, Application Custodian review type.
Removed "Manager" from the Entitlement Custodian, Application Custodian, Manager Review
Removed "Manager" from the Application Custodian, Manager Review
There are no changes in the review functionality, only the titles were changed.
Previous campaign types: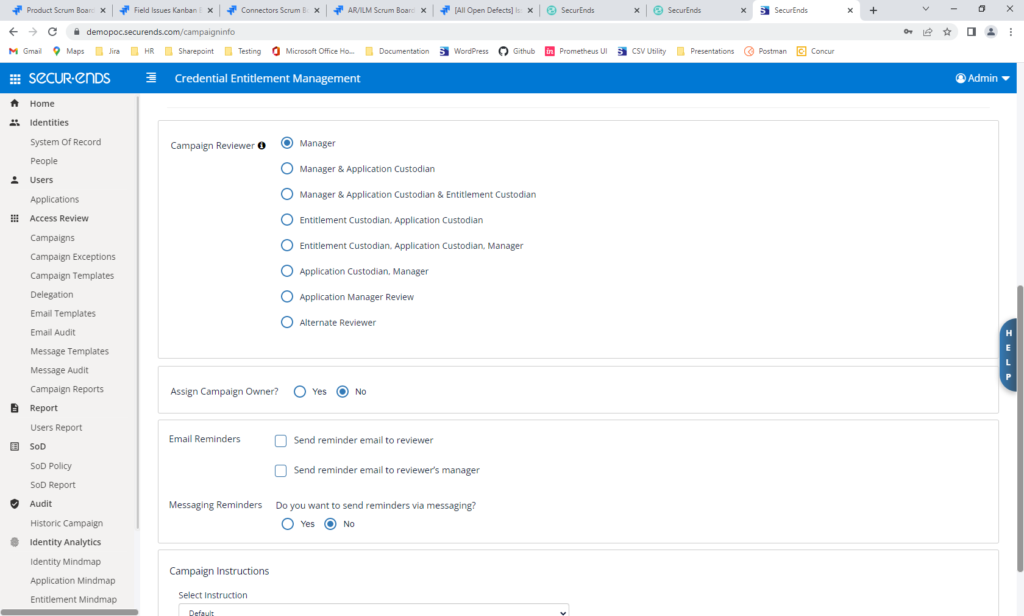 New Campaign Types: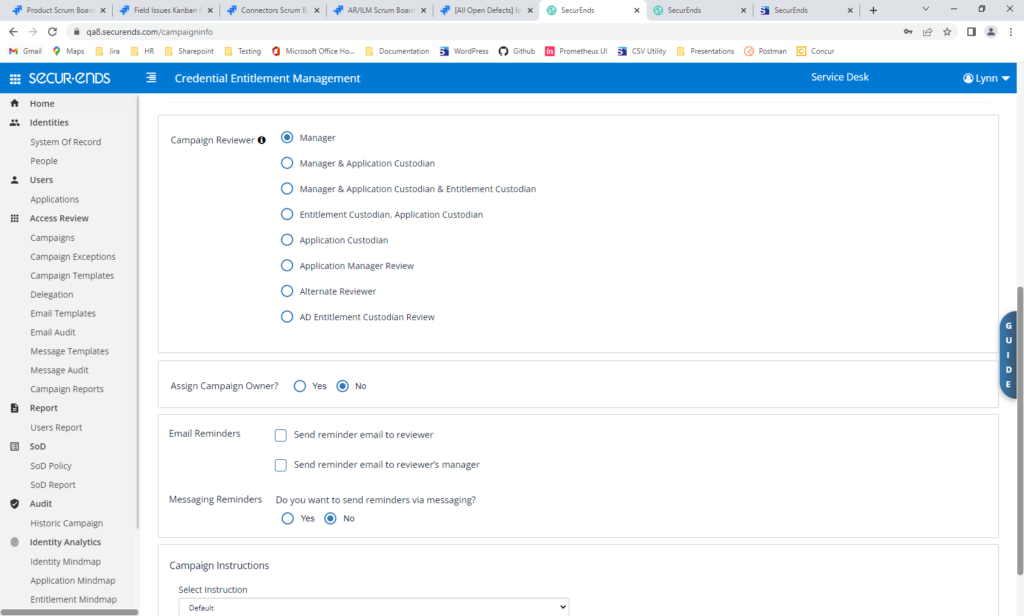 Improved Searching on Campaign Pages
Improved search performance on all campaign pages.
Added a credential/first name/last name filter on the Review All page.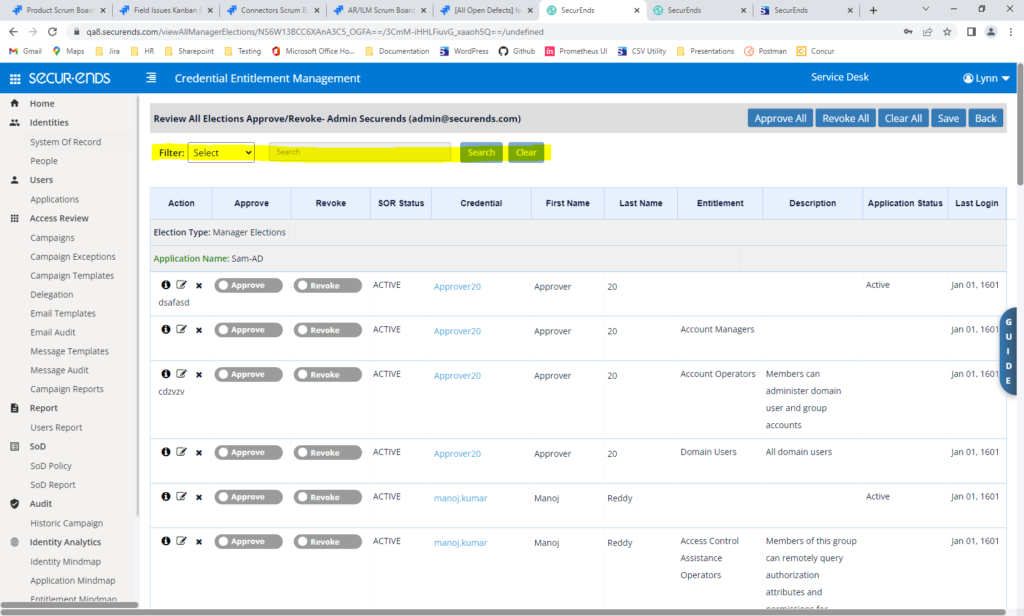 Restored the ability to do Delta Campaigns
Improved Campaign Reminder Notification Selection
We have changed the wording when setting up reminder notifications to make the selections more intuitive.
Old Reminder Selections: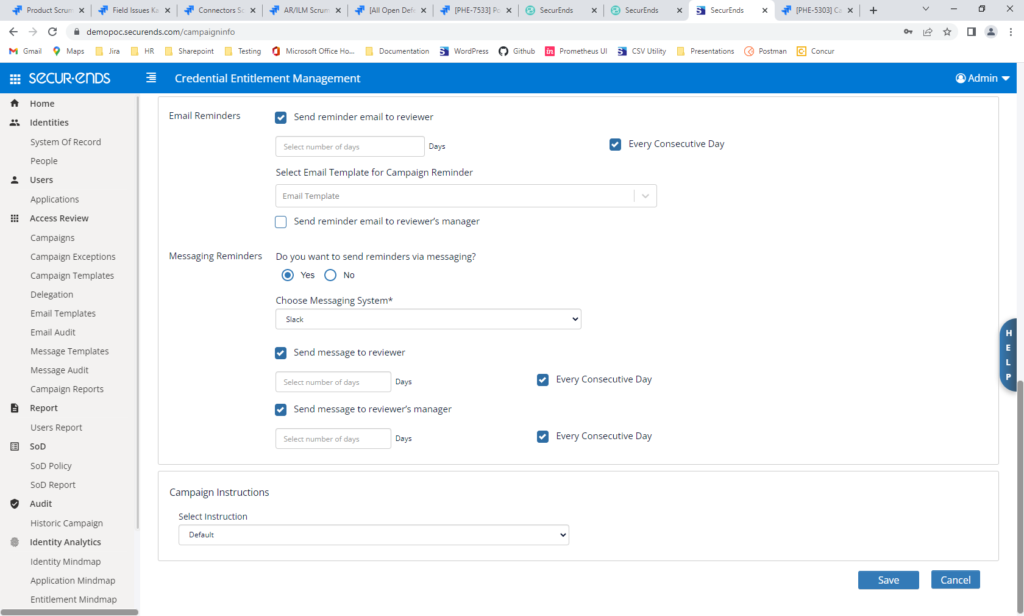 New Reminder Selections: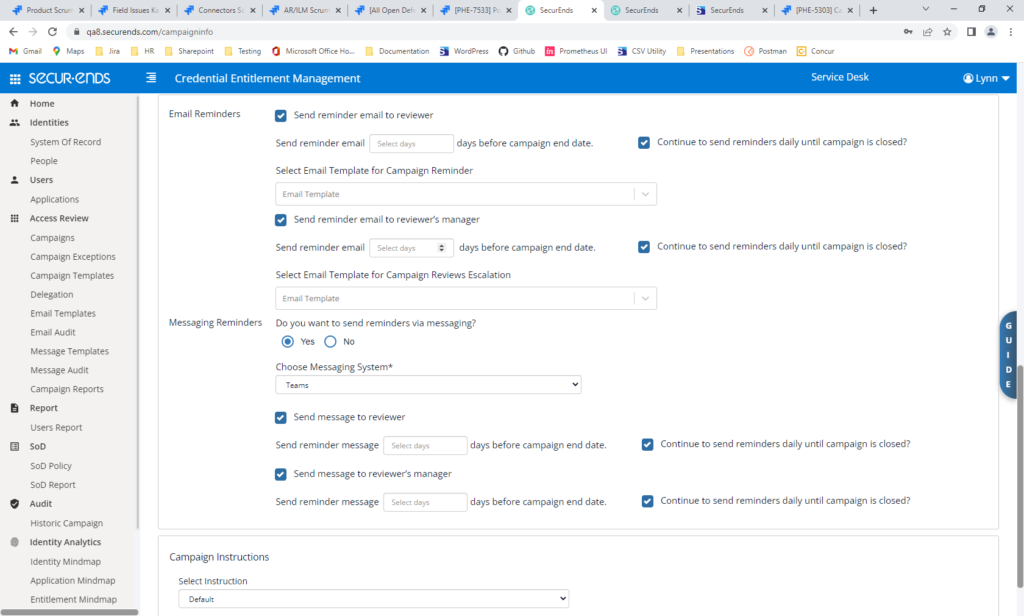 Added SOR Data to Campaign Report
Additional SOR fields display in the Campaign Report export after the Credential Status column.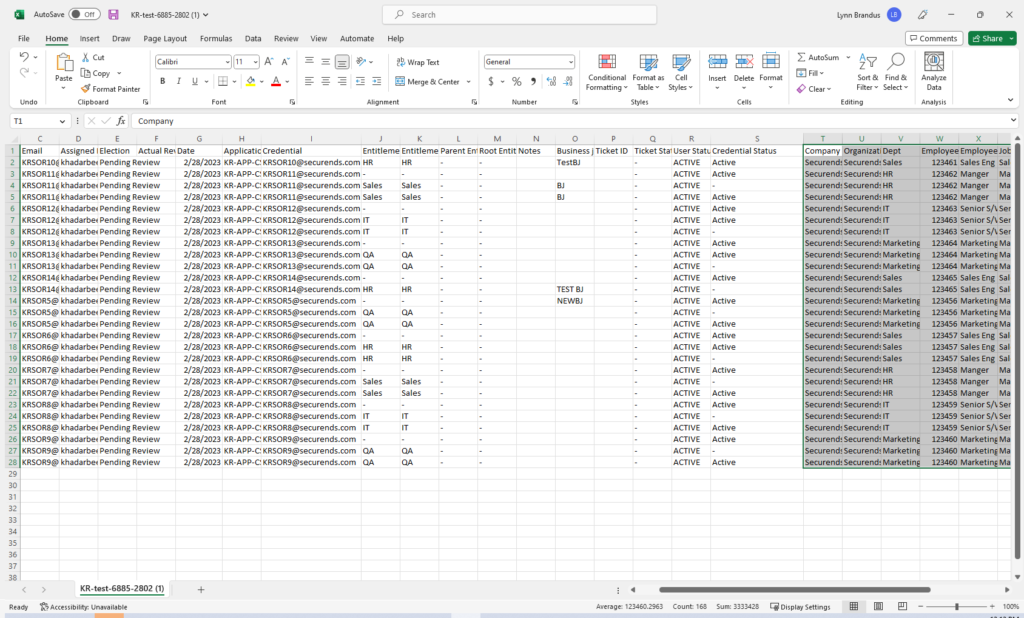 Additional SOR fields display in the PDF below each credential or entitlement.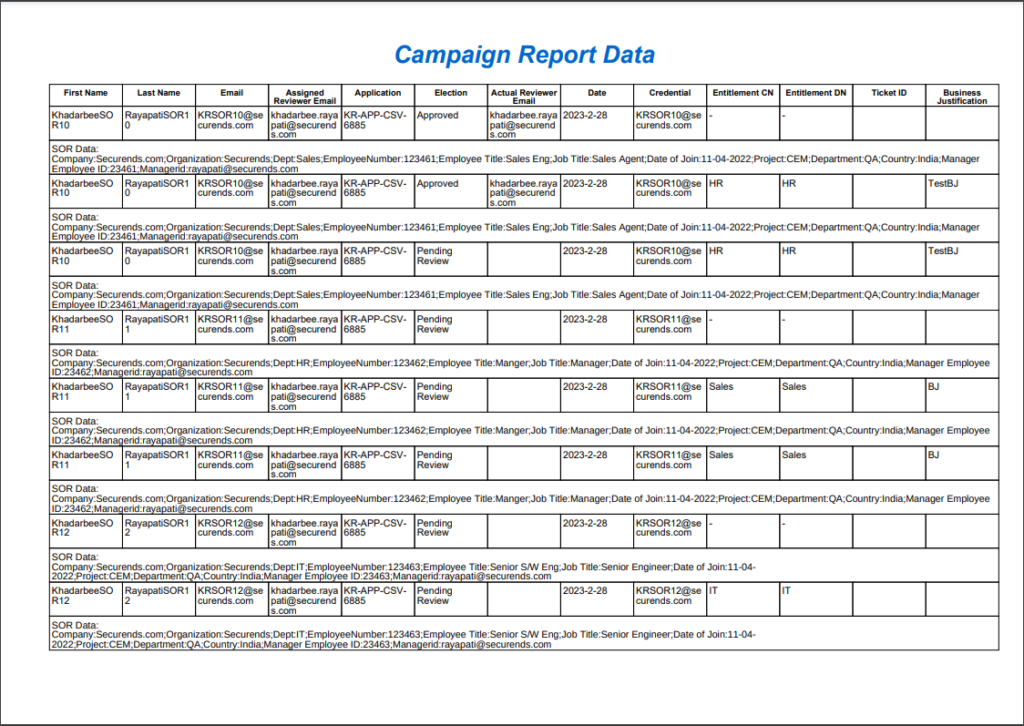 Added the ability to delete associated campaigns when deleting a campaign template
When deleting a campaign template, the associated campaigns will be displayed in a confirmation window. If confirmed, the campaign template and all associated campaigns will also be deleted.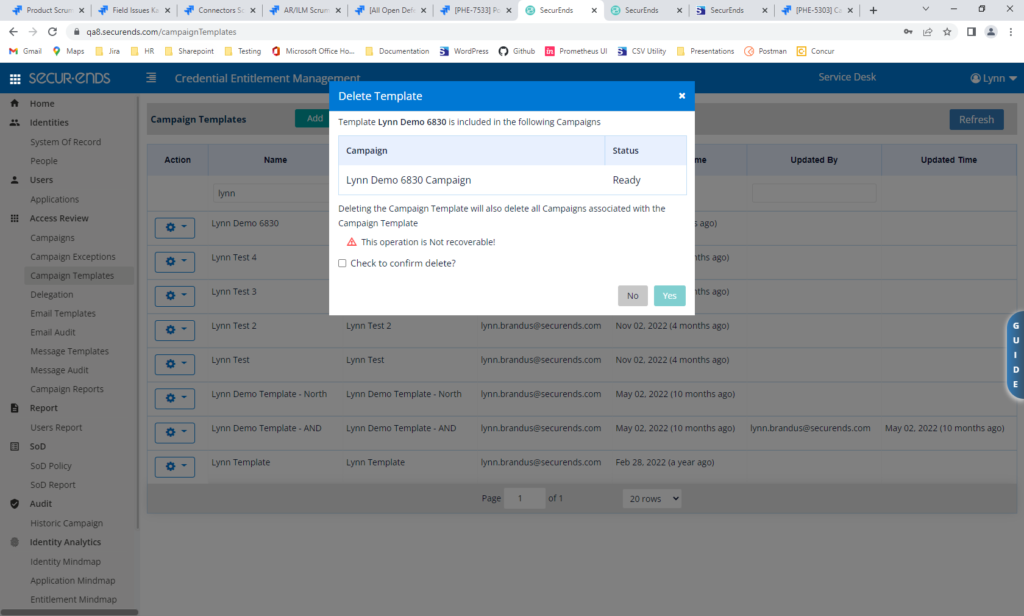 Consolidated Campaign Launch Emails
Added the ability to launch multiple campaigns at one time. When all selected campaigns are launched, reviewers will receive one email with all campaigns that must be reviewed.
Select Bulk Launch button on Campaign list page: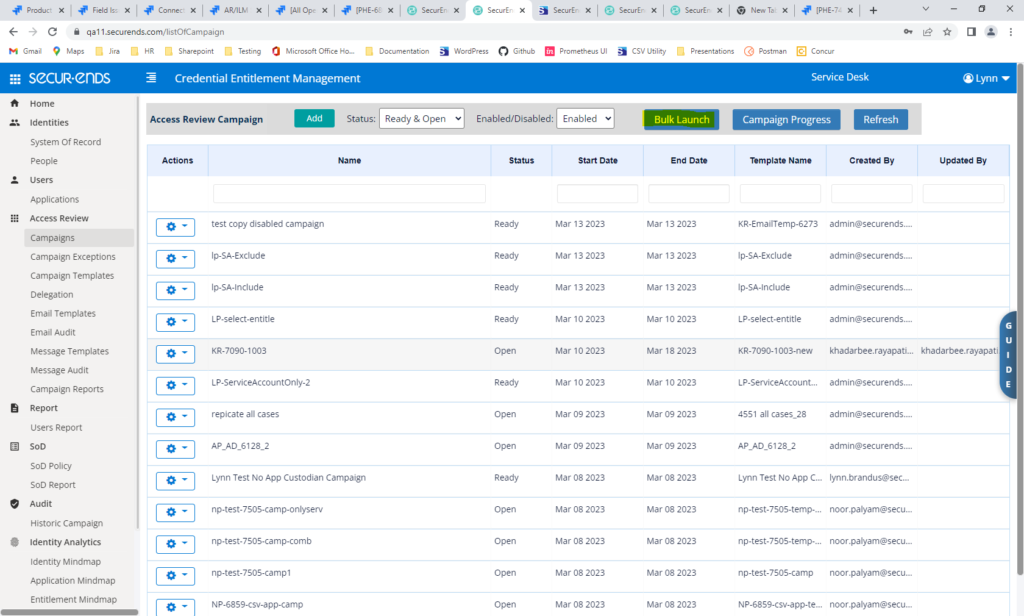 Select campaigns to launch: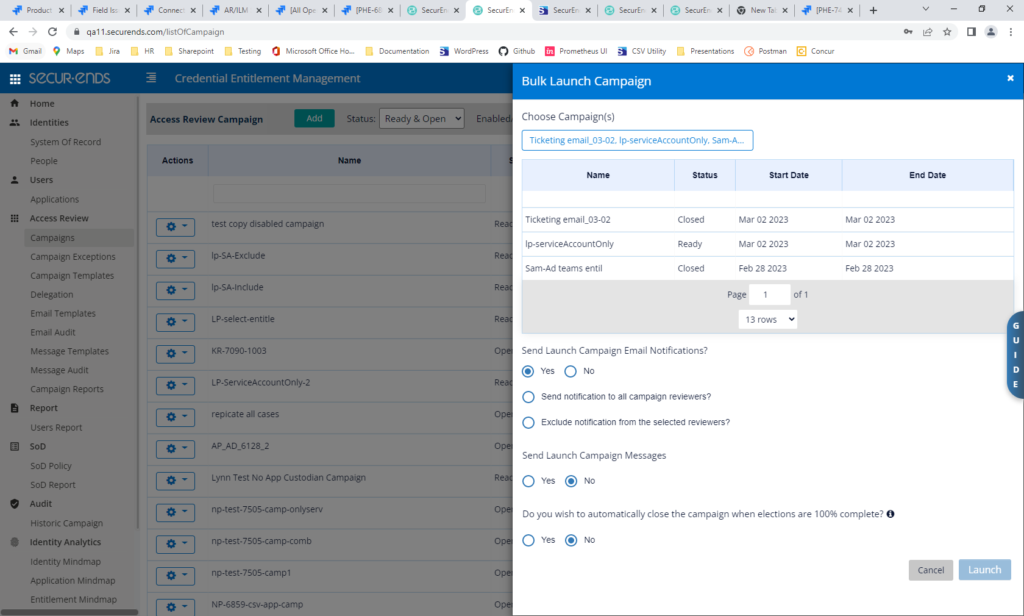 Bulk Launch Email:
Moved SOR Status next to Approve/Revoke on Review All page
Previously, SOR status was after Last Name. Now the SOR Status is immediately after the approve/revoke elections.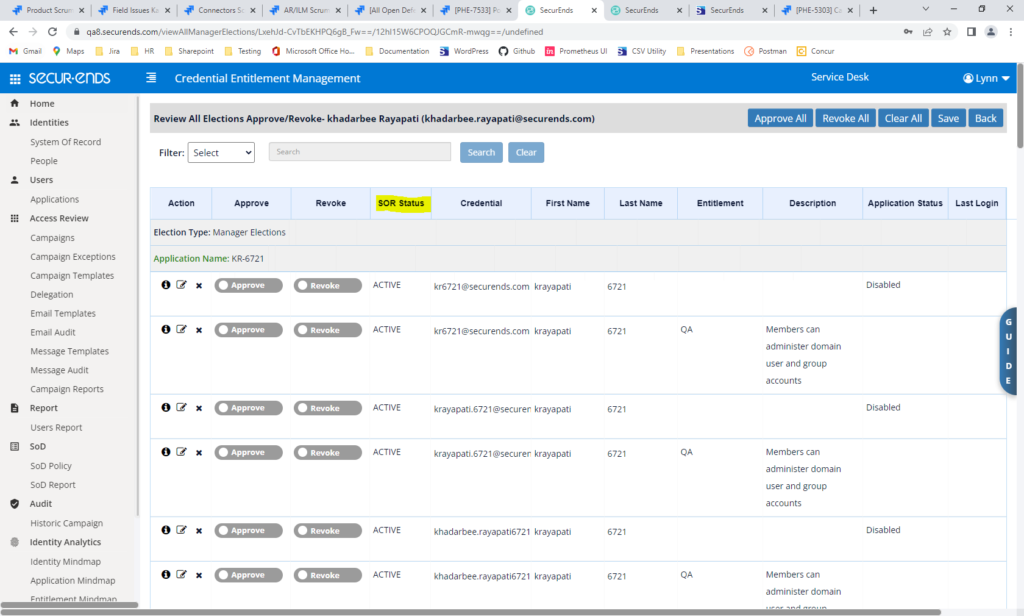 Delegation Audit Trail
Added an audit trail for all delegations. The audit includes creating, updating and deleting a delegation.
On the Delegation page, click the Audit Trail button.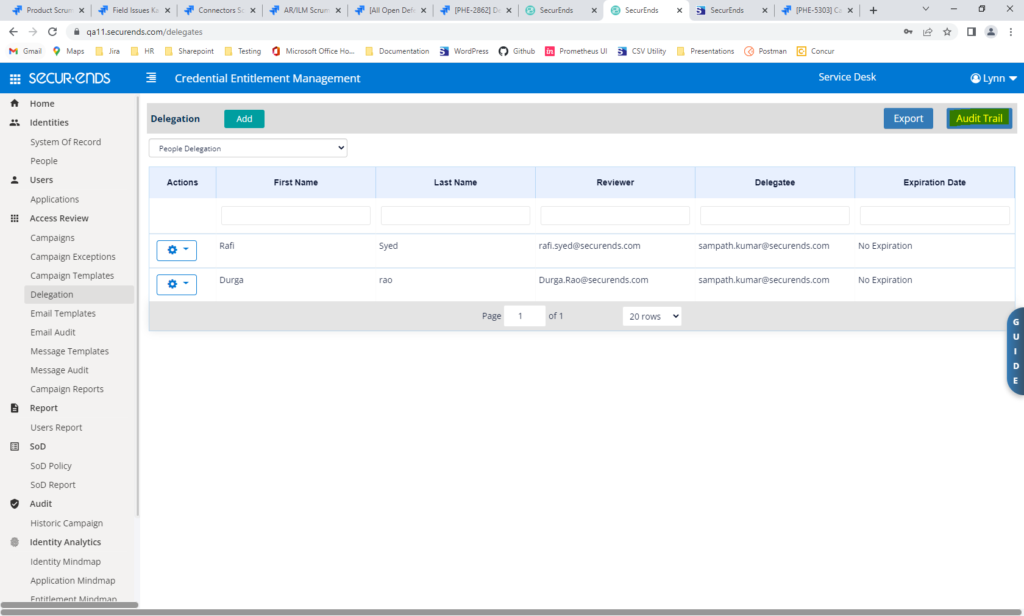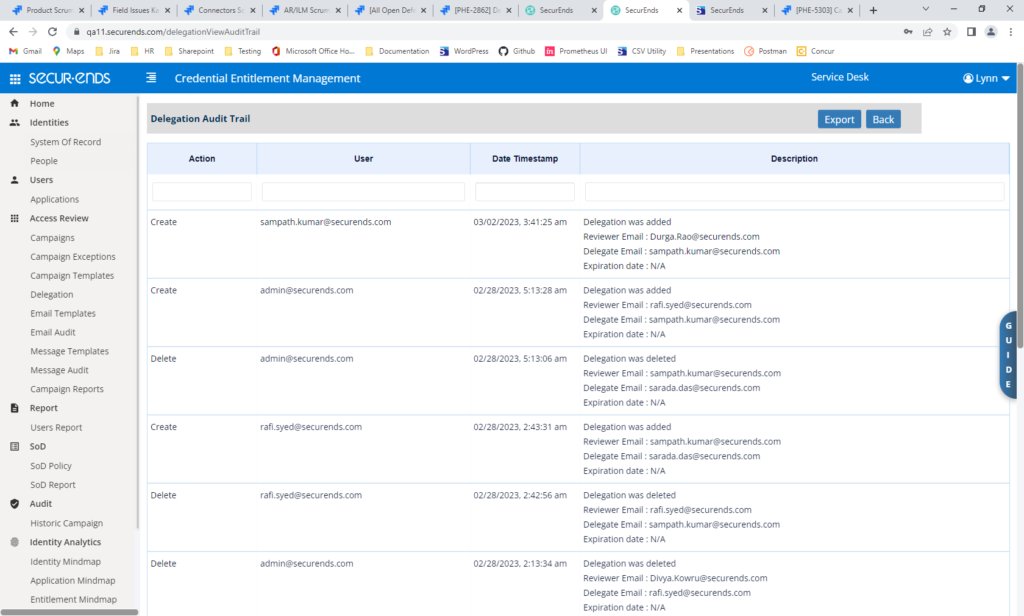 Teams Integration for Notifications
Launch, Reminder and Escalation notifications can now be sent via Teams.
During campaign creation, users can send the launch, reminder and escalation notifications via email or Slack or both.
To configure Teams notifications, navigate to Configuration, then click Set Up for Message Configuration.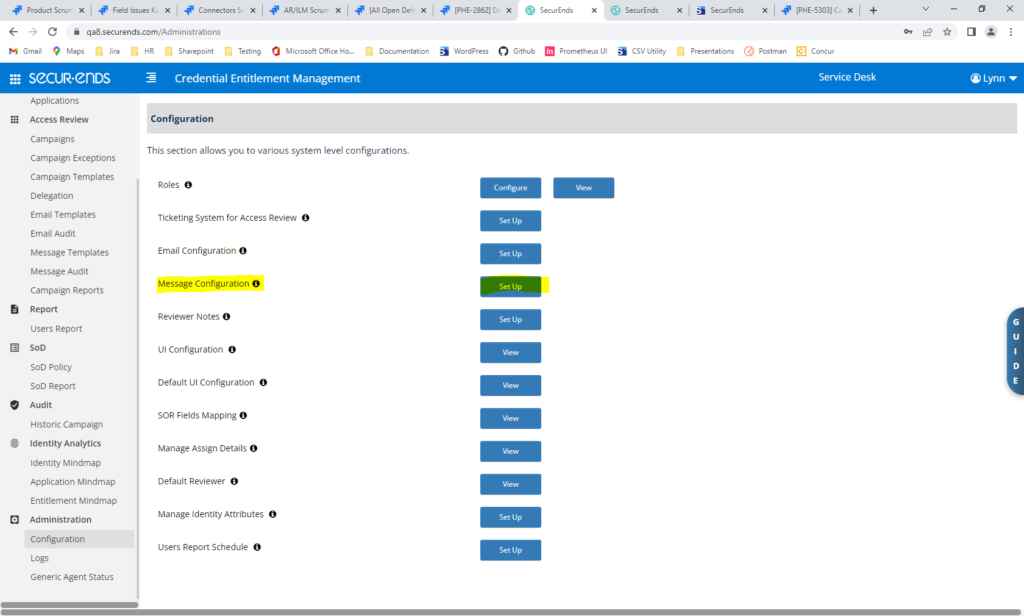 Add Teams configuration values: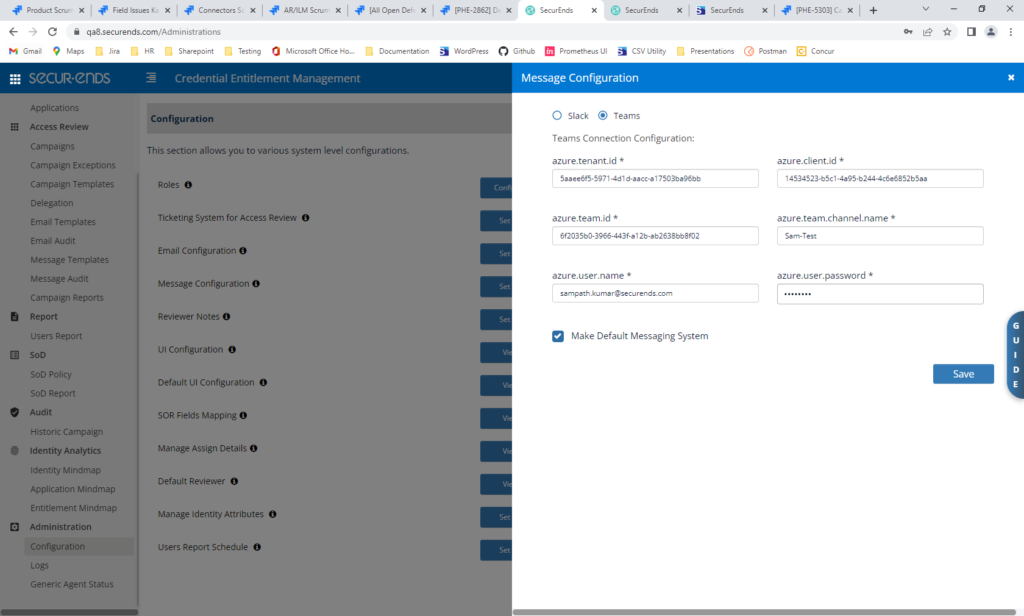 When creating a campaign, select Teams for Messaging.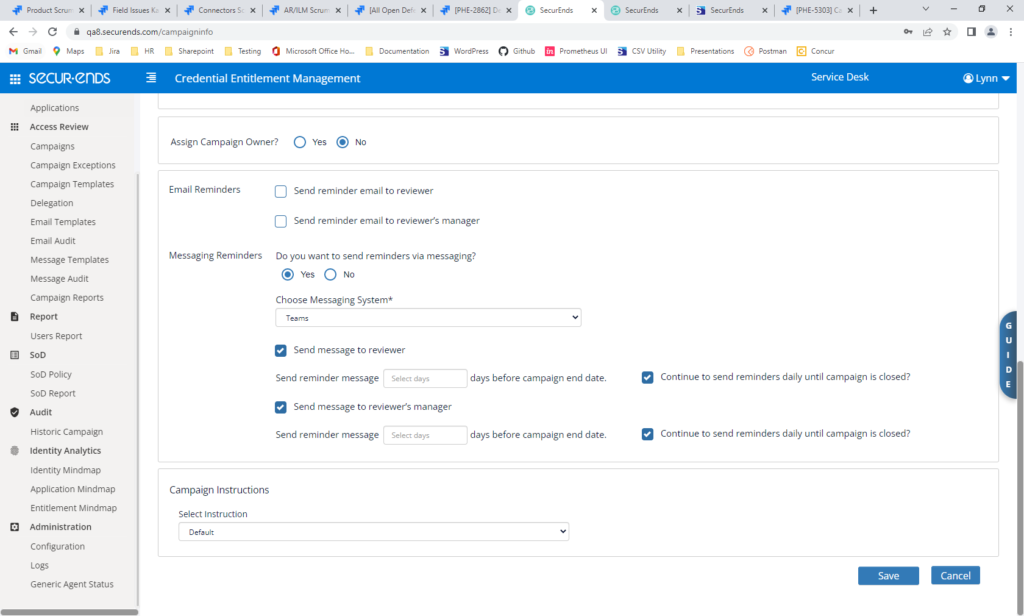 Campaign Launch Notification:

Bulk Launch Notification:

Campaign Reminder and Campaign Escalation Notification: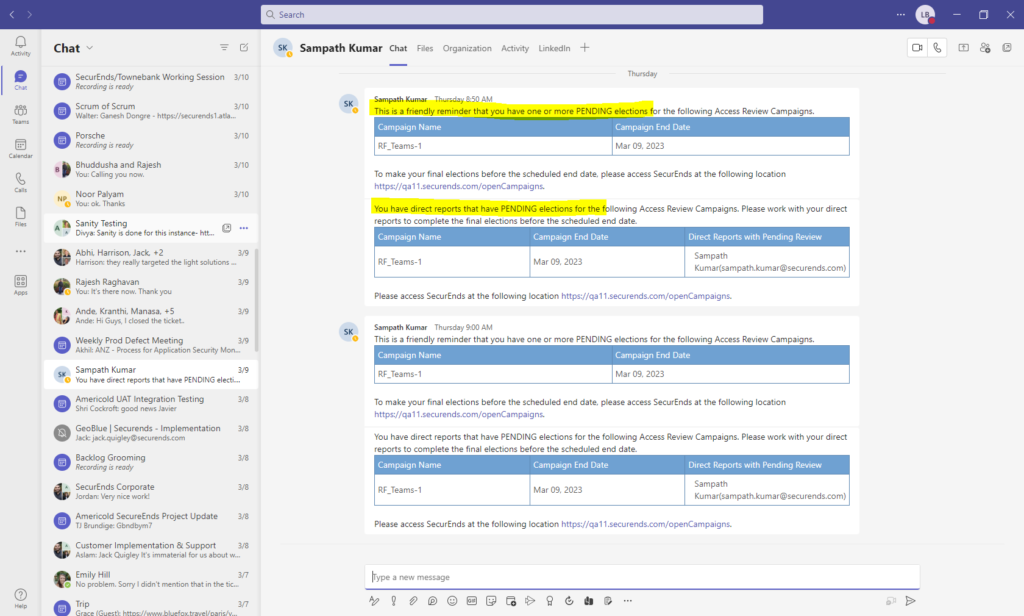 General Improvements
Moved colons on all Details pages
Previously, colons were right justified. They are now left justified.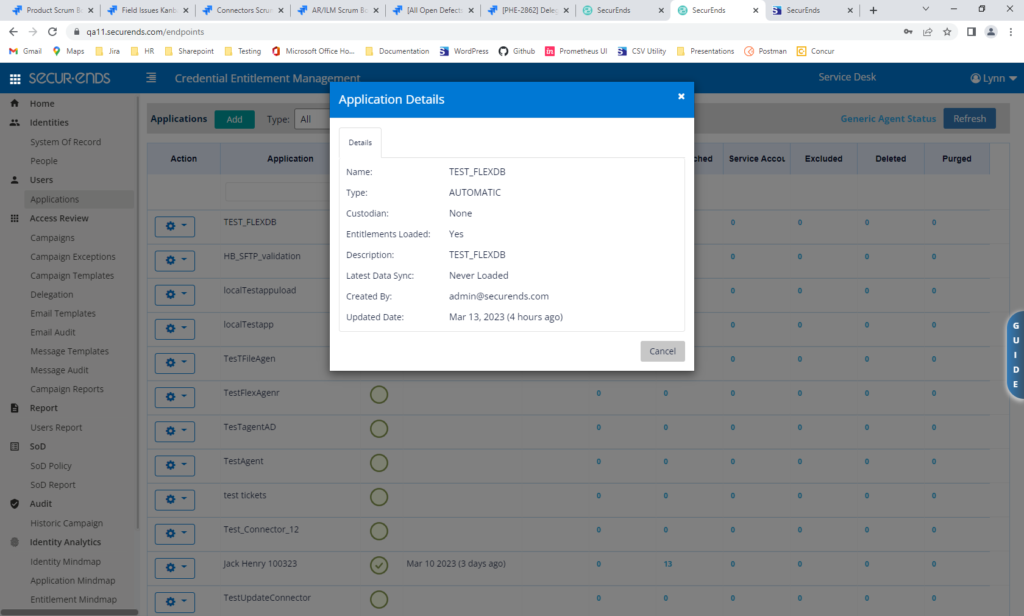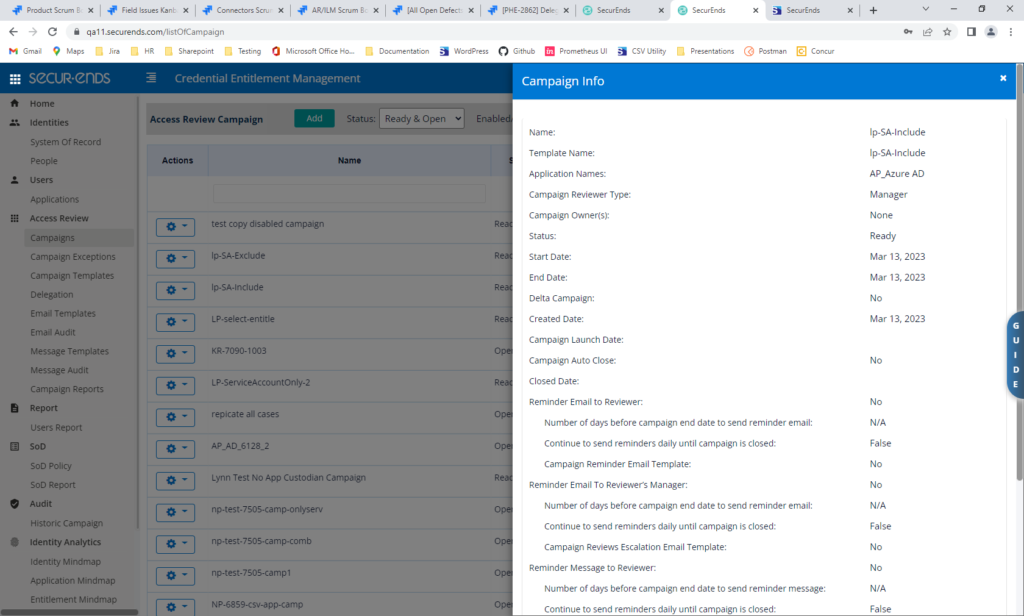 Updated Favicon with new SecurEnds logo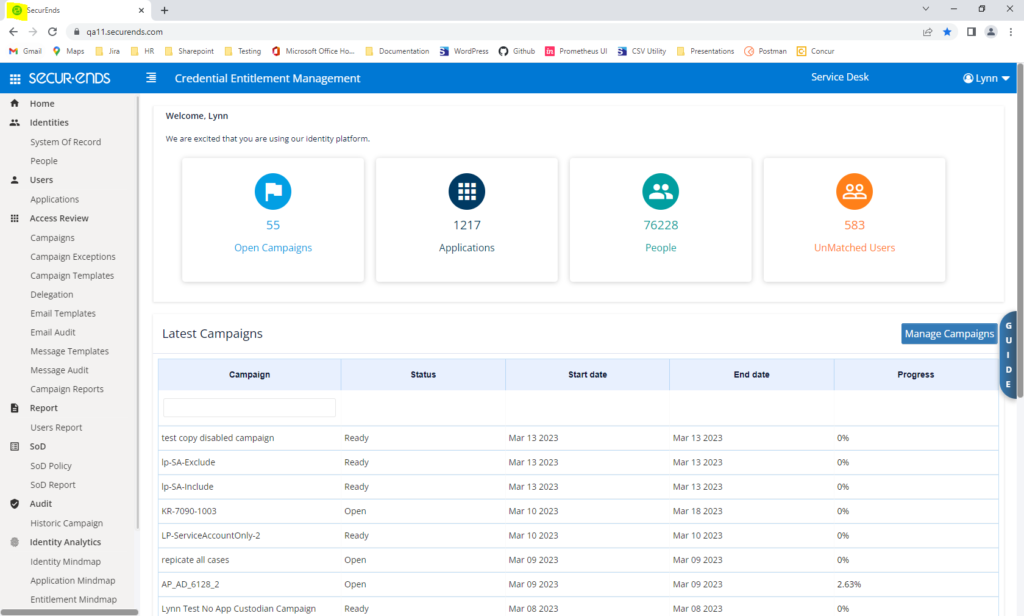 Display application logs in date order
All logs now display in descending order by date.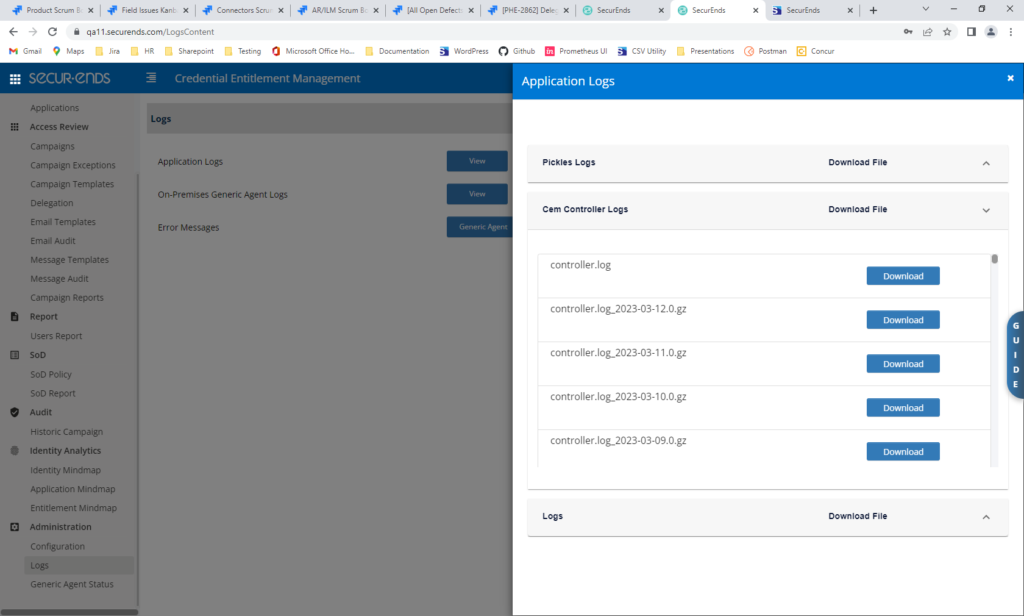 Technical Support
Updated Technical Support button to allow configurable links
When an administrator logs in, Service Desk button will be displayed and will link to the SecurEnds Service Desk when clicked.
When a reviewer logs in, Need Help button will be displayed and will link to the SecurEnds administrator email.
Add Securends administrator email link for questions from Reviewers. Navigate to Need_Help_Email under Default UI Configuration in the Configurations section.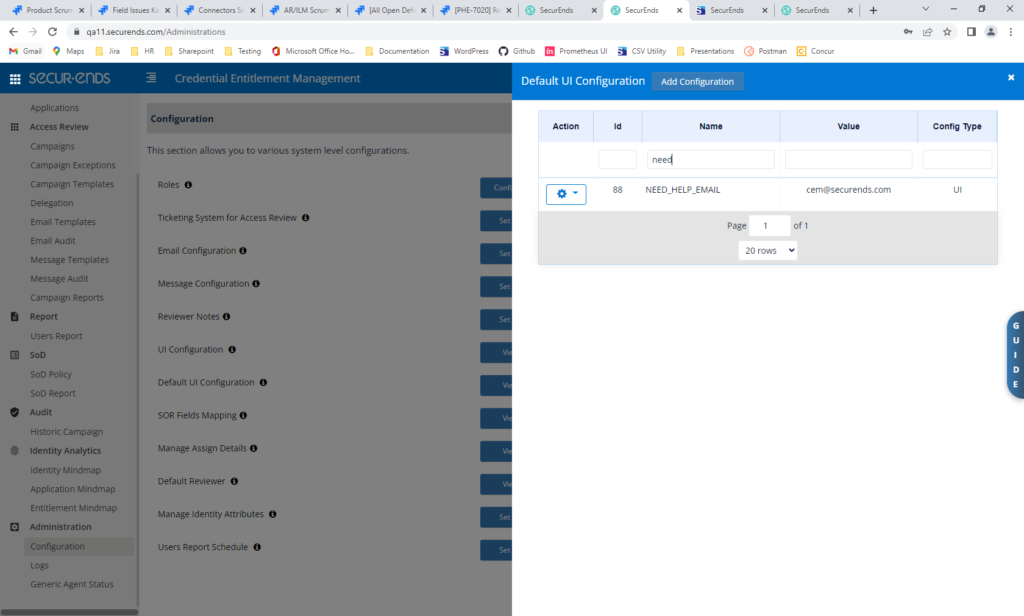 Need Help button is displayed for Reviewers: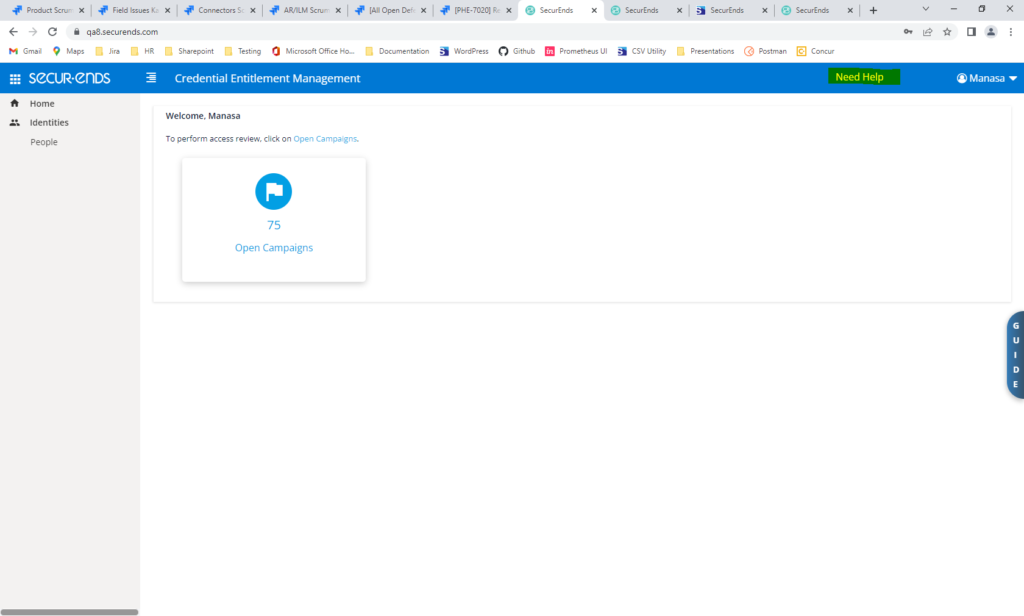 Service Desk button is displayed for Admins: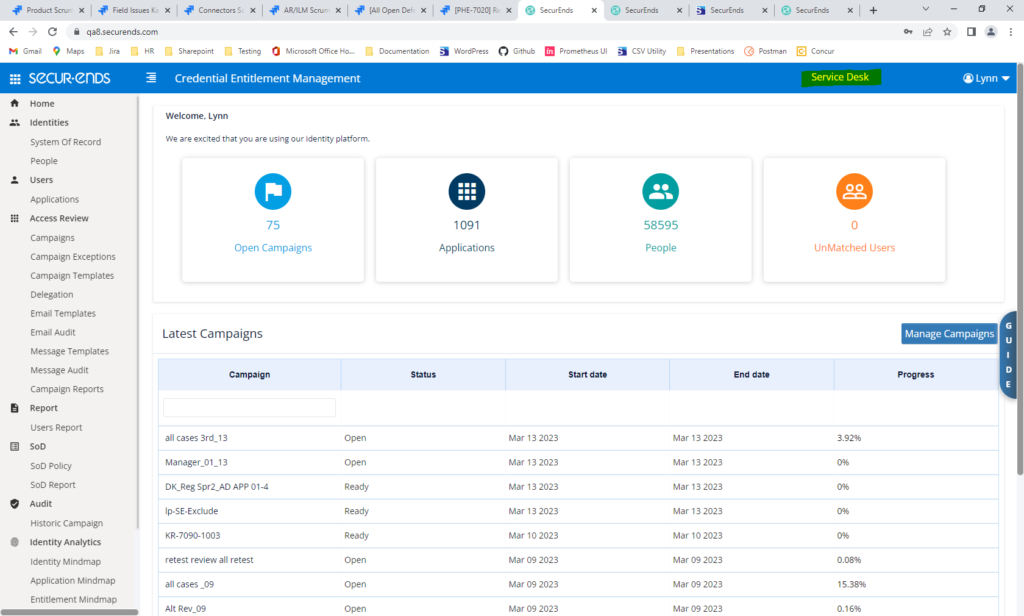 Access Request/Access Control
Allow application delete when ILM is enabled.
Applications will not be deleted when:
template is associated with application

there is a pending request for that application

there is a fulfillment request for that application

it is part of a role under access control

application is part of a group under access controlàManage Application Choice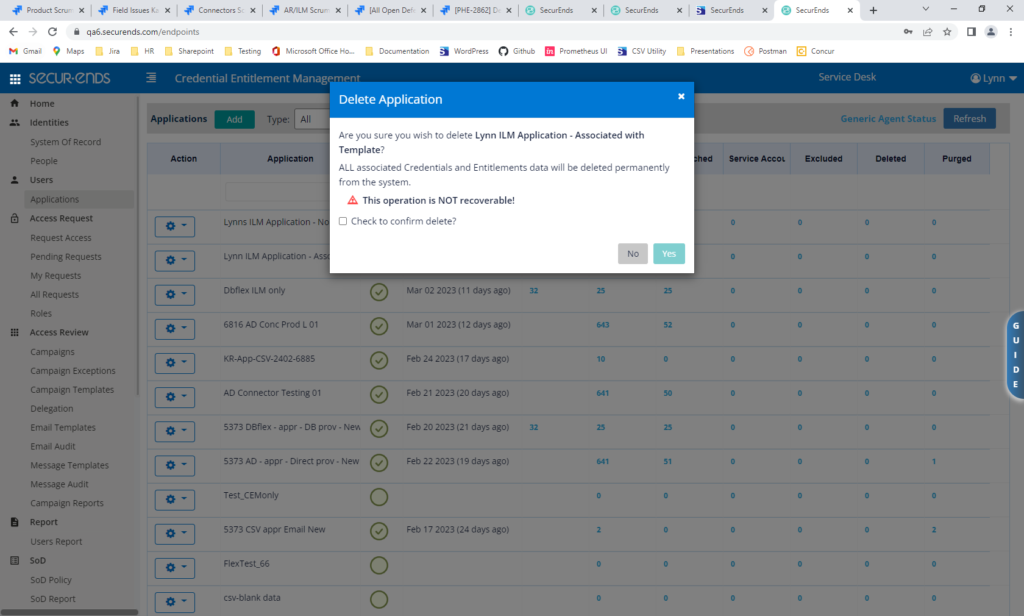 Prevent creation of duplicate Events by not allowing to click SAVE more than once