Identity Governance Using ServiceNow
Companies across all industries and verticals are using ServiceNow for IT Service Management. SecurEnds CEM module with its native integration with ServiceNow allows organizations to do both User Access Reviews for SOX & HIPAA on ServiceNow and manage Joiner Mover Leaver/ access requests into ServiceNow. SecurEnds' SaaS based identity governance product gives CISOs the visibility and control to support compliance and governance initiatives without breaking the bank. Where SecurEnds excels over other Identity Governance and Administration software for ServiceNow is in its ability to make single identity repository, connecting with any number of on-premise and cloud applications beyond just ServiceNow. Using pattern matching it ties identities to users. SecurEnds is more than a workflow built on top of ServiceNow. It is a full feature Identity Governance product that augments ServiceNow ITSM capability to do User Access Reviews across every application including itself.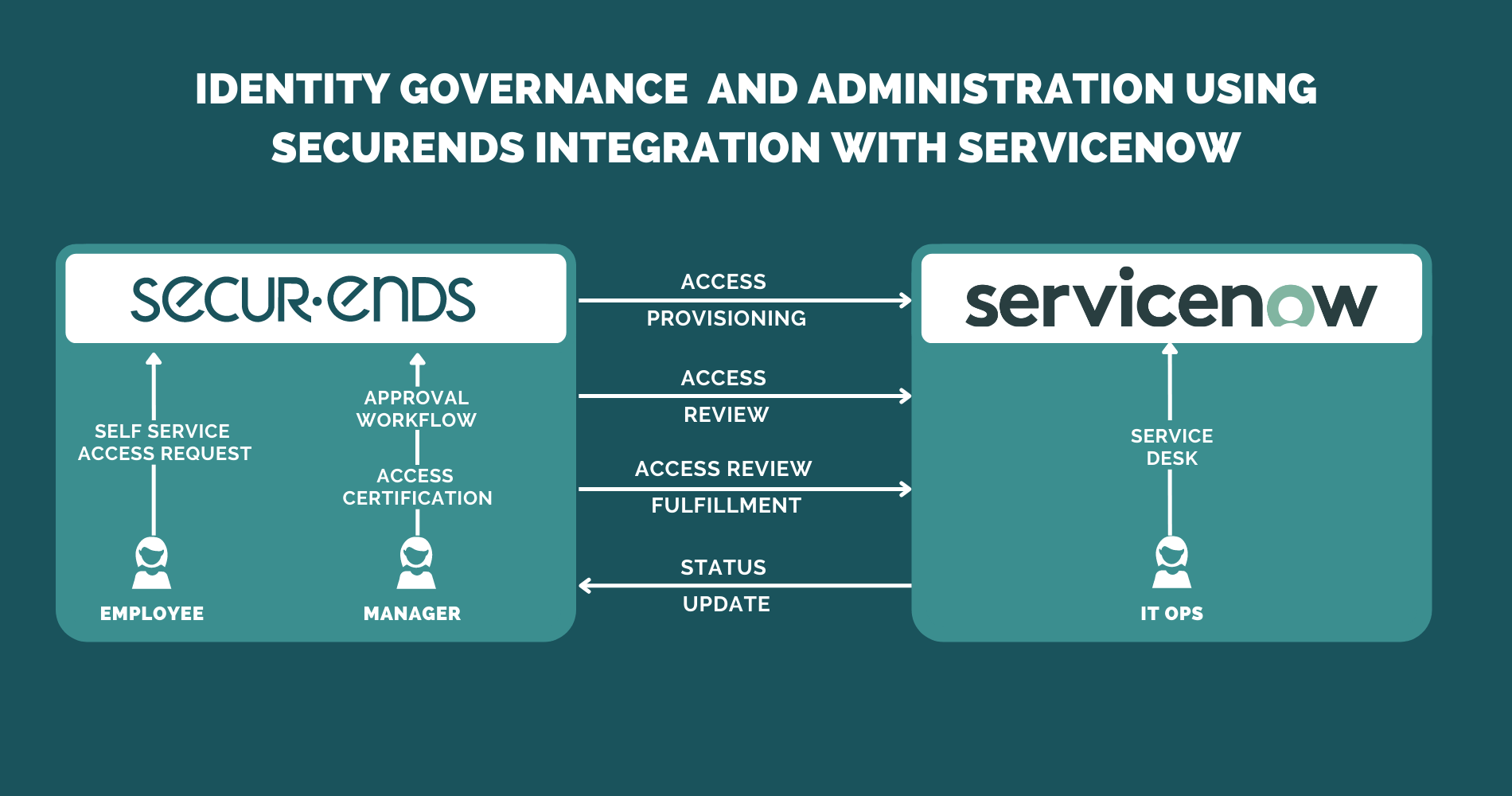 SecurEnds — ServiceNow Connector
Our out of the box connector pulls users, user groups, and roles within ServiceNow for use in access review campaigns, proactive segregation of duty (SoD), and re-certifications within a company. Which employee has which rights? In which role are they allowed to access which information?
SecurEnds — ServiceNow Integration
Using SecurEnds and ServiceNow Service Desk integration, provisioning and deprovisioning process can be automated for employees, vendors, and contractors spread across multiple systems of records. The tight integration creates service request tickets in ServiceNow.
Benefits Of SecurEnds-ServiceNow Integration
The SecurEnds and ServiceNow integration provide full feature governance capability while leveraging the existing ServiceNow provisioning.
This integration provides:
Centralized identity source for Access Approval and Governance
Access reviews on ServiceNow and other applications
Automate Lifecycle Management
SecurEnds is leading other SaaS providers on the Gartner Peer Reviews and Capterra Reviews. With its industry leading flex-connector, SecurEnds product can be easily stood up and self implemented by customers. Our software allows you to load user data from multiple systems of record, connect dynamically to applications, match identities with user credentials, manage heartbeat identities across connected and disconnected, schedule one-time or periodic access recertification's and create a proof of compliance for external auditors. In only 30 minutes we can demo why our SAAS product is now a leading choice for identity governance.