User Access Entitlement Reviews
SecurEnds ensures you are in control of user access
Our software meets access control compliance for SOX, HIPAA, ISO27001, SOC1/2, PCI, etc.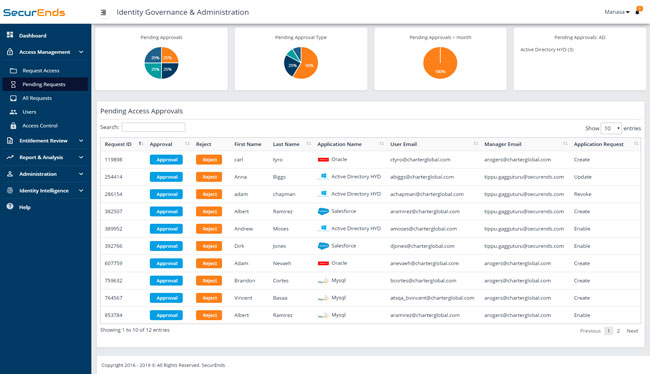 CSV File Upload
Securely connect and upload CSV files with users and entitlement data to perform reviews.
Connectors
Quickly connect to standard and custom applications with easy-to-configure and built-in connectors
Perform Access Reviews
Setup and manage recurring campaigns to perform access reviews. Ensure users have the right access.
Access Attestation and Audit Reports
Provide audit reports and a separate dashboard for access compliance attestation and certification.
SaaS
Provide rapid implementation using our SecurEnd SaaS offering, on the cloud or on-premises.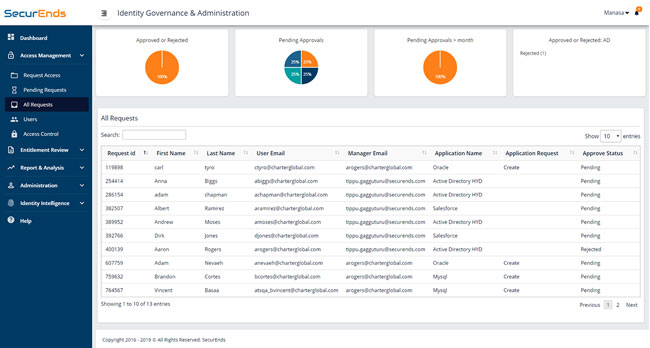 Discover how SecurEnds can help your organization

See what our customers are saying on
See what our customers are saying on
"[With SecurEnds] we are finally able to meet our internal audit and external audit objectives for conducting Credential and Entitlement reviews."
Steve M.
Sr. Mgr Security Compliance
"The SecurEnds team provided us with outstanding support. Once implemented we immediately found we were overspending for some privileges and reclaimed seats that slipped through the cracks. Can't imagine how companies much bigger than ours manage access control without a tool like this.
"A great feature rich, nifty application to flush orphan accounts ! Love the fact it has integrations with different cloud service providers."
Abhi S.
Vice President – CISO
See what our customers are saying on


Partner Success Story
We have partnered with Deloitte Europe Risk and Advisory Services a leading value-added reseller in information technology with a large customer base in the USA.
Vice President
Information Security
Customer Success Story

We worked with SITA, a world's leading multi-billion dollar revenue company in air transport communications and information technology with 4700 employees and operations in 197 countries covering 95% of all international destinations.
Senior Manager
Data Center Security & Compliance
We provide integrations to make your job easier



User access reviews has never been easier

Show who has access to what applications across your enterprise in real-time.