SecurEnds simplifies Identity Audit & Governance with Okta Integration Network (OIN) Partner
Identity Access Management(IAM) includes access management, SSO, MFA, access control, access certification and identity analytics. There are many IAM products in the market, however SecurEnds and Okta combined integrated solution provides complete identity access management and governance.
Many organizations looking to integrate continue to maintain on-premise infrastructure while utilizing one or more cloud providers. This adds a different level of complexity for any Identity Access Management solutions. Okta has emerged as the most viable alternate to Microsoft Azure for access management. It offers standard Identity Access Management services such as single sign on (SSO) and multi factor authentication (MFA). SecurEnds product has emerged as the leading complementary Identity Audit and Governance product to Okta.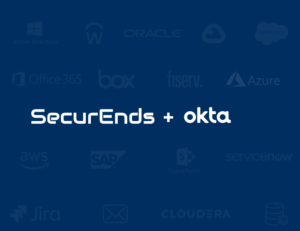 SecurEnds is a Okta Integration Network partner and its product portfolio is currently being used by many Okta customer across the industry to do access verification, user attestation, and compliance governance for different identities (services acconts, employees, contractors, BYOD devices, etc.) Okta to SecurEnds integration is available from the Okta Integration Network (OIN) catalog at no extra charge to help you achieve the following uses cases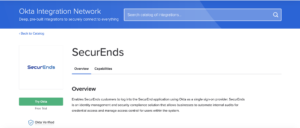 Use Case # 1: Access certifications and entitlement review for both Okta enabled and custom application. In this use case SecurEnds sits between the HRMS system and Okta. SecurEnds connector pulls entitlements (credentials, role, applications, etc) from all Okta applications. SecurEnds is also connected with non-Okta enabled applications such as legacy or custom applications to pull entitlements.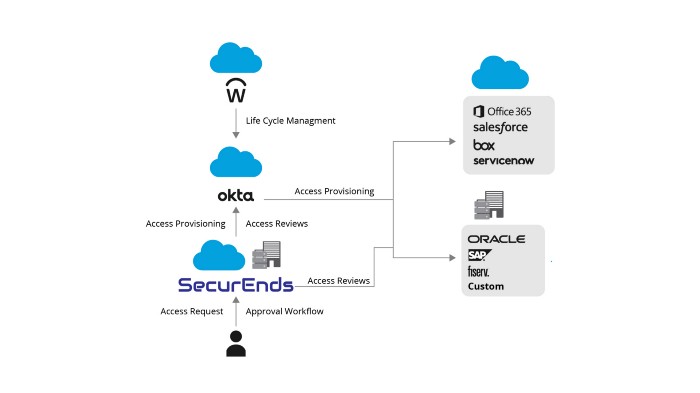 Use Case # 2 : Add Approval Workflow and Grouping To Okta Enabled Applications. Many highly regulated industries require approvals before access can be granted to certain applications. However, Okta self request does not allow fine grained approval workflows. To circumvent this issue, organizations connect with SecurEnds, an Okta Integration Network (OIN) partner, to orchestrate the approvals. This world class integration also allows organizations with following benefits:
Enforce Segregation of Duties (SOD) & Least Privileges: Every role and entitlement should be created with least privileges and evaluated for SOD violation. Giving people minimum level of access that they need to do their job ensures there is no policy violation down the road. Auditors are looking for evidence that SOD controls in Okta enabled applications are in place to prevent fraud.
Special Treatment for Privileged Accounts: Once a cyber criminal gets past the endpoint it is only a mater of time before they gain access to privileged accounts. Every organization using Okta must adopt a zero-trust mindset for these accounts. Privileged account creation, modification and deletion should be codified as an automated process. Many auditors recommend creating privileged account with a predefined expiry date. Above all access to these accounts should be evaluated periodically to know who has access to what.
Manage Adhoc Privileges : Users working on special projects may need evaluated privileges. Auditors recommend that such requests be throughly vetted in scope (read, write etc) and duration for which the access is needed.
Maintain Proof Of Compliance: Auditors require proof of compliance to finalize the audit. Organization need to ensure documentation exist for audit trails etc. If there were any audit findings in the previous year and have not been remediated, auditors recommend organizations maintain this documentation.
Whether it's a public company's Sarbanes-Oxley (SOX), healthcare's HIPAA or the credit-card industry's PCI, companies using Okta find IT audits complex. SecurEnds,a modern day Identity Governance or User Access Review, software takes out the complexity and helps Okta customers to demonstrate compliance. SecurEnds is the Okta Integration Network (OIN) partner that provides a feature balanced, highly configurable and industry first flex-connector product that keeps companies secure while meeting audit and compliance requirements. In only 30 minutes we can demo why our SAAS software is now a leading choice for identity governance