Identity as the New Perimeter: The Importance of Regular User Access Reviews 
Identity as the New Perimeter: The Importance of Regular User Access Reviews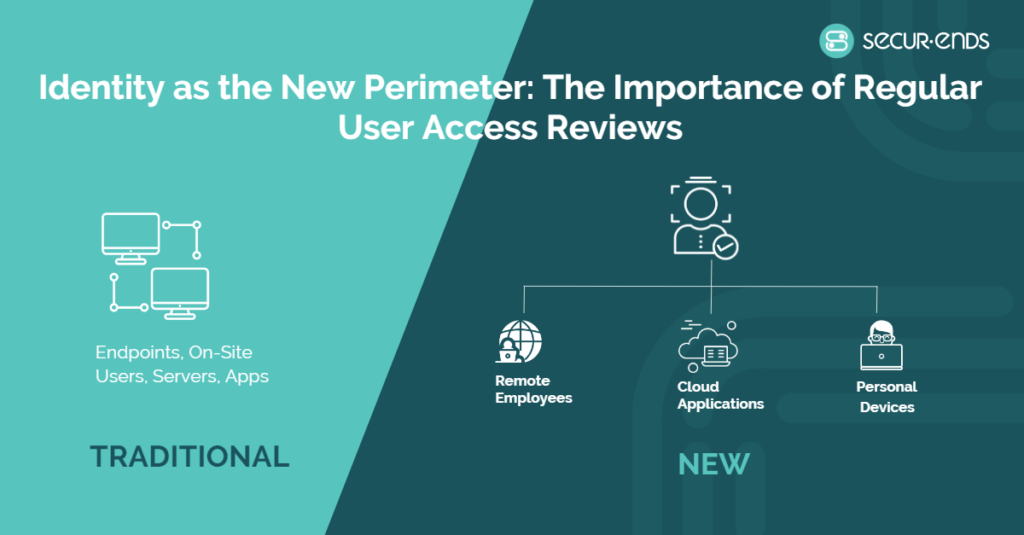 Written By: Abhi Kumar
The term "identity as the new perimeter" refers to the notion that the traditional network perimeter, which was once the primary focus of security teams, is no longer an adequate means of protecting the sensitive data of an enterprise. The changing nature of labor and technology prompted Gartner to propose the concept "identity as the new boundary" Increasing numbers of businesses have adopted cloud-based services, and employees and contractors have begun utilizing their own devices to access company data and systems outside the network. Historically, firewalls, intrusion detection systems, and virtual private networks (VPNs) were employed to secure the identity. However, as a result of identity going beyond the network for the aforementioned reasons, the network perimeter has become permeable and much more difficult to secure. Recent pandemic exacerbated the transition, and now the user is the new boundary.
User identities are essential to gaining access to sensitive data and systems, and companies must use a number of best practices and technologies. Here, SecurEnds comes into play.
SecurEnds is a platform for user access review that automates the process of continually assessing and revoking access for all user kinds. Managing access for third party contractors and vendors is one of the greatest issues organizations confront in terms of user identities. SecurEnds' universal identity repository enables enterprises to store all user identities in a single area, making it simple to manage and audit access. This centralized visibility can significantly reduce the likelihood of data breaches and other security events. While businesses have developed access controls (RBAC, etc.) to limit the amount of data and resources to which third-party vendors and partners have access, it is common knowledge that privileges increase, resulting in privilege creep. SecurEnds enables businesses to continuously examine user access to retain privileges in accordance with the principle of least privileges. This means that access is checked frequently, not just when a user is allowed access for the first time or when their job changes. This is essential because it prevents the accumulation of stale or unneeded access over time.
The SecurEnds Solution Engineering Team has assisted hundreds of clients, and we are pleased to present a short-term and long-term plan for securing a company's new perimeter. Establish a procedure for frequently assessing and revoking access privileges for users who are no longer required. This is a cost-effective method for reducing the possibility of privilege misuse. Implement MFA for all users, including partners and third-party businesses. This is a reasonably inexpensive and simple security technique that can significantly enhance safety. Invest in employee and third-party vendor training and instruction on security best practices and how to recognize and report suspicious activities. In the long term, we recommend CISO to establish a governance program that includes frequent reviews and audits of user types, role types, application importance types. This necessitates a strong use case for budget allocation.
Our team is ready and available to discuss how we can support you in identifying the best identity governance solution for your specific needs. We understand that every organization has unique requirements, and we are committed to working with you to find the solution that will best meet those needs.
To get started, please click here to schedule a personalized demo with one of our experts.