Team Member Spotlight: Ashkan Dastani
Team Member Spotlight: Ashkan Dastani
We have amazing data-driven and innovative minds working with us at SecurEnds. Beyond that, our diverse team has a wide array of hobbies, talents, and interests that make them truly unique. Enjoy getting to know our team in our Spotlight series.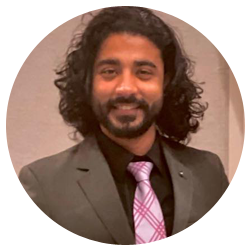 Meet Ashkan Dastani, one of SecurEnds' Implementation Consultants. He has been with the team since July 2021. During that time, Ashkan has helped many businesses reduce risk and meet compliance requirements by automating their user access reviews.
What is the best career lesson you've learned so far?
No matter the task and adversity you come across, it is important to know that there is a learning curve and it is okay to make mistakes and learn from them to do better in future. Never give up and keep moving forward with an optimistic mindset.
What three words would your friends use to describe you?
Kind, patient, and determined.
What do you like to do in your free time?
I like to workout, read and unwind with close friends and family.
Where is your favorite place in the world?
My home and family. Also, anywhere with a beach or lake with warm weather.
What's one food you cannot resist?
World famous Hyderabadi Biryani and Chicken 65.
What's your favorite line from a movie/book/song?
"Karma is about becoming the source of one's own creation. In shifting responsibility from heaven to oneself, one becomes the very maker of one's destiny."
If you could choose anyone, living or dead, who would you pick as your mentor?
To name a few: Tony Robbins, Sadhguru, Jordan Peterson.
If you could snap your fingers and become an expert in something, what would it be?
I'd love to become an expert on how to become a billionaire.
What's your favorite way to unwind after a busy day?
Good workout with a nice shower and tea after.
What's your favorite sport to watch and which team do you root for?
I love to watch Tennis – big Federer fan, UFC, and NFL – Kansas City Chiefs.
Thank you, Ashkan! We appreciate everything you do to support our customers and contribute to the culture at SecurEnds.